In December 2015 Strachan Hill and Douglas Allport of Fleming & Company revisited Dave Schuller Operations Manager at Eurolink Motorway Operation M3 Ltd to find out how the 301/290 reflecting road stud was continuing to perform on the M3 in Ireland 4 ½ years on from his previous testimonial "Passing the snowplough test" and 5 ½ years since the road was opened to traffic.
When we last spoke to Dave in July 2011 for our Online News Ireland had experienced one of the harshest winters for many years with temperatures dropping as low as minus 17 degrees Celsius, and snowploughing going on round the clock to keep the new* toll motorway operational. This proved to be a major test for the maintenance crews and their equipment, not to mention the 301/290 road studs. At that time Dave was delighted to report that despite the extreme weather conditions the road remained opened and no road studs were lost as a result of the winter maintenance operations.
On our recent visit Dave said "the 301/290 road studs have surpassed our expectations from a maintenance and durability perspective, the retro reflectivity is still excellent and performing beyond the requirements of the DMRB** standard resulting in the clear delineation of lanes, which is vital for the safety of our roads' users, especially in adverse weather conditions. Since the road opened in 2010 we have replaced only 18 reflectors, making the 301/290 almost maintenance free. This is resulting in real whole life cost savings, as we have only had to carry out 1 maintenance intervention. The cost of maintenance can add up very quickly, typically replacement works will involve Traffic Management, Non Availability Payments (NAP)*** plus replacement product costs. With the 301/290 this type of cost is kept to a minimum. In addition to the cost benefits the health and safety of our personnel has been improved as they are not frequently being exposed to replacing road studs in live traffic situations and the road users are also benefiting as their journeys' are not being delayed by lane closures." In summing up he went on to say "based on my experience of the 301/290 road stud in this very demanding motorway scheme I would have no hesitation in recommending the product to others."
Fleming and Company are delighted with the product performance and customer satisfaction and will continue to work closely with Dave and all our other road stud customers to ensure continued market support of the 301/290.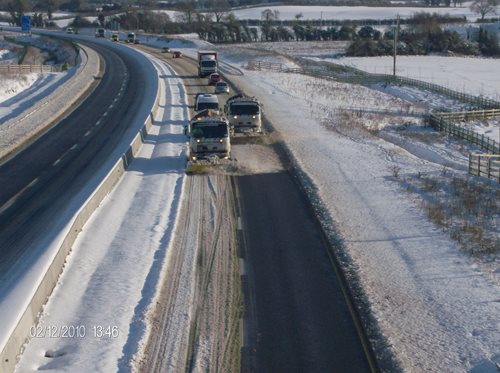 *motorway opened officially to traffic June, 2010
** Design Manual for Roads and Bridges
***lane occupation charges payable to the National Roads Authority (NRA)